Sponge cake cut from
the packaging,
then carefully cut into trifling
little squares,
gently lays the foundation for the class act
to follow.
Sherry bottle at hand, in hand,
and handed out,
soaks the squares that are nothing
on their own.
Sufficiently now embalmed, the cake awaits
its covering,
thick yellow custard rivers which will
hide the potency
of what lies beneath - the children
mustn't partake!
Cream, whipped to satisfactory peaks
seals the deal.
Cherries of red and green fall
nonchalantly,
plopping as artificial gemstones of
Christmas cheer.
Thus the yearly trifle is ready to meet its fate,
bravely enduring
its purpose in life, staunch and proud!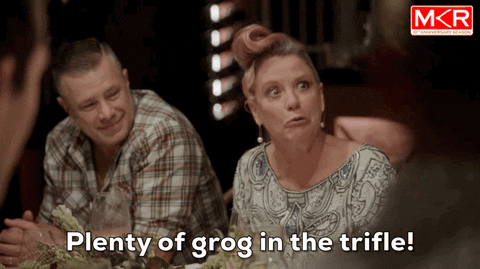 A dVerse poets prompt to write about food, particularly food that connects in some way to ones self. My grandmother was famous for her Christmas trifle and every year we try to replicate this dessert. Her trifle though, was made from scratch - she baked the sponge cake, made the custard with real eggs, put brandy/whiskey/sherry to soak the cake and always placed sliced toasted almonds on top. Today store-bought sponge/custard etc make it too easy. I do miss her 'real deal' trifle, which as children, we were only allowed a very little bit.....
Here is the link to dVerse: Food Food Food